Contact Supplier
NARESH / SHANTI KUMAWAT
Manager
Company Name:
OWL HANDICRAFT AND STONE PVT. LTD.
Business Type:
NaturalStone,ManMadeStone,Service
Main Products:
Black Galaxy Granite Slabs & Tiles, Star Galaxy Granite, Absolute black granite, Chamrajanagar Black Granite Blocks, New imperial Red Granite, Gem Red Granite, Flower Red Granite Slabs & Tiles, Absolute Black Granite Monument & Tombestone, Jet Black Granite CUrbstone, Jhansi Red, Ruby Red Granite, Indian Red Granite, Mapel Red, Natural Sandstone , Kandla Grey, Kandla Multi Brown, Red, Chocklate, Pink, Beige, Mint White, Mint Yellow, Agra Red
Country/Region:

India
Verification Type:


Company Name: Owl Handicraft And Stone pvt. Ltd.
Description of your Company:Granites & Natural stone and handicraft items exporter/ manufacturer
Mission: Export all kind of natural stone & handicrafts items to overseas market,

Management (Key Members):
Shanti Lal Ajmera ( Sonu)
Naresh Ajmera Kumawat
Employees Number & Skills: Below 08,
Office Location:Bhaleshwar Bhawan,Pur Road, Bhilwara - 311001 Rajasthan, INDIA
-----------------------------------------------------------------------------------
Registered Certifications:U74999RJ2006PTC022780
DT. 10.07.2006
Major Products & Services:
Specialization:Granite & Natural Stone Articles/Handicrafts
Turnover & other Financial Info: 2.5 crore Up to 5cr
Clientele: UK, Russia, Georgia, Iran, Iraq,Germany,Busina, Lebnone, France,all overseas.
Website URL:www.owlhandicraft.com
Onsite Check
The supplier's company certificate has been verified by StoneContact.Com.
Verified Supplier
International Name
Local Company Name
Company Establish Date
Business License
Trade License
Existence Image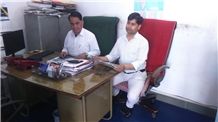 Certificate of Incorporation
D&B
CAPEXIL
ISO 9001 :20015
FIEO RCMC No:JPR/59/2015-2016
CERTIFICATE OF IMPORTER-EXPORTER CODE (IEC)